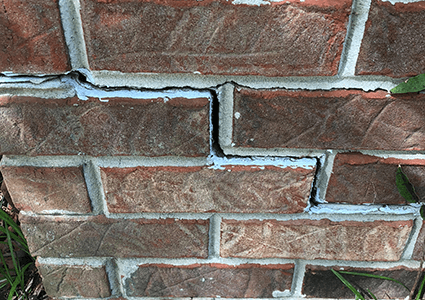 Foundation walls that have cracks can be a sign of a serious issue. This is a major sign that your home might be experiencing foundation settlement issues that should be addressed as soon as possible. The team of trained professionals at JB Design are experienced and ready to identify and repair these issues quickly and effectively. From foundation settlement to hydrostatic pressure, wall cracks can be caused by a handful of issues, all equally serious. These are signs that your home is suffering from structural as well as waterproofing issues that can lead to costly repairs.
Foundation sinking is something that can commonly be seen with cracking in or on your home, the installation of foundation piers can not only stop the cracks from growing but can also restore your foundation. Our team also makes use of ultra strong carbon fiber reinforcement that will both strengthen the walls and prevent existing cracks from getting any larger.
What Causes Foundation Cracks?
Foundation cracks are typically caused by a sinking or settling foundation putting stress on the concrete slab or the brickwork supporting the home. A house will settle when the soil is not compacted correctly, is overly wet or dry throughout the year, has poor drainage, or if the temperature fluctuates a lot over time. The changing moisture levels in the soil can also cause voids to form in the soil which the foundation will sink into. Depending on what is causing the foundation problem, we have a different repair solution.
Our Wall Crack Repair Process
Our team will begin with an inspection, that way we can properly diagnose the cause and extent of the damage to your home. We provide homeowners with fast and effective crack repair services right when they need it most. Appearing as either a gap in the wall or a damp spot from a smaller hairline crack, these issues should be addressed immediately to avoid additional and worse damage. With years of experience diagnosing and identifying wall cracks, our team will help restore your peace of mind where your home is concerned.
Contact Us Today
Contact us today if you have any type of foundation issues by calling us at 757-367-5924 or filling out our online contact form to schedule an inspection and estimate on wall crack repair in Virginia.