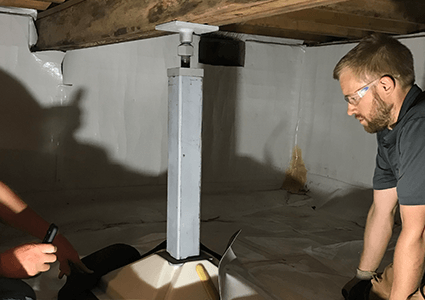 Have you noticed that the floors inside your home are uneven? This issue can be apparent all over your home or just in certain areas and is sometimes confused with a sinking foundation, regardless of the amount of damage it is important that you address these issues immediately to save yourself from a costly replacement. There are many ways to fix sagging floors due to excessive moisture damage. A lot of homeowners may worry that they need to completely replace the flooring throughout the home if this happens to them. However, rest assured knowing that while moisture in a crawl space is not something you want, it can be treated easily. Also, our team will be able to take care of any damage that may have happened as a result of the water seepage. This is a common problem that we have a special crawl space repair solution for.
What Causes Sagging Floors?
Sagging floors are commonly caused by damage from excessive moisture and humidity in your crawl space. They can also be caused by poor structural support during the construction of the crawl space or improper spacing of supports. If you've got sagging or sloping floors due to bowed or weakened floor joists, this can create a dangerous situation for anyone walking on the flooring or any items or appliances on the floor.
Crawl Space Jacks
Our team uses a patented system of crawl space support jacks which are designed to withstand the weight of an entire home. These support jacks are installed in your crawl space in areas where the support beams are sagging. Once installed, the support jacks are raised to level your home and permanently support any sagging beams.
It is important to note that having crawl space supports installed will not completely solve the issue. Often, we will recommend a crawl space encapsulation system along with crawl space supports to stop any other beams from becoming damaged.
Contact Us Today
If the you have any type of sagging floor issue or any other crawl space issues, please reach out to us at 757-367-5924 or use our online contact form to set up an appointment with a member of our team.