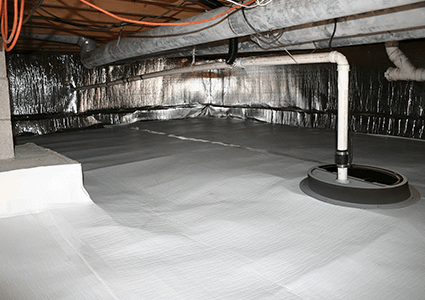 When moisture gets into your crawl space, there are many issues your family may have to deal with, these problems are avoidable though. When moisture goes unnoticed or untreated there are many serious issues that can arise. The wooden support beams and floor joists can rot, warp, and decay as a direct result of moisture in your crawl space. The support beams and floor joists play an essential part in holding up the weight of your home. It is incredibly important to keep them in tip top shape. Sagging floors are not the only type of damage that moisture and humidity can cause, mold and bacteria thrive in dark and damp environments, this can lead to dangerous health issues for your family and pets. Keep your home safe and call to day to inquire about crawl space encapsulation as well as moisture mitigation.
Moisture mitigation may be necessary in your home if you notice any of the following warning signs:
The first and second floor of the home smell musty and moldy
First floor of the home is sagging in certain areas or feels un-level
Noticeable puddles seep out around the crawl space outside your home
Infestation of bugs in your home - they could be coming up through this area
What is Moisture Mitigation?
Moisture mitigation is the process of removing and ultimately preventing water, water vapor, and humidity from getting into your crawl space and potentially causing damage to the flooring above. The sources of this moisture are typically exterior such as groundwater, flooding, or a leak in the crawl space. When moisture is properly mitigated, the space will have properly controlled humidity levels and potential damage will be reduced.
Moisture Mitigation Options
Systems exist for moisture mitigation to limit the damage of moisture in your crawl space. These systems include sump pumps, vapor barriers, and complete crawl space encapsulation. The purpose of a moisture mitigation system is to eliminate or control the moisture and humidity levels inside your crawl space. Regardless of the source it is important that you control these issues before they lead to costly repairs and a need for complete replacement of things like your floor beams and floor joists.
Contact Our Team
If the crawl space under your home is flooded or you have any other crawl space issues, feel free to give us a call at 757-367-5924 or fill out our online contact form. Our team can help you with your crawl space problems.