Crawl Space Moisture Mitigation &amp Foundation Repair Services
Protecting Homes and Businesses from Damage Since 1995
Our team at JB Design has years of experience helping customers like you. The trained professionals, that we employ, have a family friendly attitude and are ready to walk you though crawl space moisture mitigation and foundation repairs, step by step. Here at JB Design we understand that all of what we do is not common knowledge, our goal with every repair is to help you not only understand what to look for, but also for you to be part of the repair process every step of the way.
If you are in the Norfolk, Virginia Beach, Chesapeake, Virginia or surrounding areas, our team would be honored to help you get your home back in working order. Call us today at 757-367-5924 and speak to one of our live representatives to find out today what options you and your family have.
Moisture in your crawl space is nothing to play around with, the longer you wait to encapsulate or control the environment in your crawl space, the more damage that will be done. Many people don't know what to look for when checking for crawl space issues, check out our crawl space page today to see if your home may be afflicted by any of these warning signs.
Another issue that can come about with your crawl space is mold growth. Mold can be an incredibly dangerous substance and it could hurt your family's health in the long run. Do not wait to get your crawl space inspected, our team of professionals will help you come up the solution that is best fit for your home and your pocketbook.
If you have been noticing cracks in the stairs or foundation of your home, the time to act is now. You may have signs of foundation settlement and not even know it, we don't expect you do know what to look for, but we would love to help you ensure the safety of your home. If you suspect that you may be experiencing some of the issues from our foundation page, please do not hesitate to call us. Issues with foundations only get worse over time, if caught early enough, it may be possible to repair the issues instead of having to do a complete replacement of the foundation.

The Best Foundation & Waterproofing Products In the Industry
Our team at JB Designs uses products manufactured in the U.S.A by SafeBasements Inc. for our basement waterproofing, crawl space repair, and foundation repair projects. Our products are developed to last longer than any other waterproofing product on the market. The waterproofing and foundation repair products from SafeBasements Inc. have been thoroughly tested to perform in even the toughest conditions. Designed and manufactured on American soil these products from SafeBasements Inc. are designed specifically to combat the weather and soil conditions in Virginia Beach.
Why Choose JB Designs For Foundation Repair & Waterproofing?
Our team is here to walk you through any of the questions you may have, we will work with you hand in hand to not only diagnose any issue that you may have, but we will also help you come up with the best solution. Feel free to contact us if you have any questions or to schedule an inspection or an estimate today. The time is now, do not ignore these issues in your home.
Our Service Area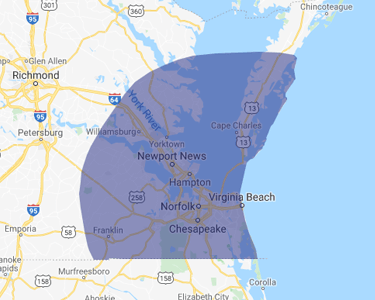 We perform work for both home and business owners in the greater Virginia Beach, Norfolk, Newport News, and Chesapeake areas. Since 1995 we have worked to help residents in our area because we live here too. We have worked with the type of soil conditions that most buildings will be facing which means we know how to fix problems for every situation in our area. Our team works on every project as though it is being completed on their own homes. Whether the project involves protecting your crawl space from excess moisture and humidity to prevent damage and keep mold growth at bay or installing a series of foundation repair products to prevent your home from sinking and your foundation from cracking, our team is here to help you. Find more information about our complete service area.
Virginia Beach
Norfolk
Chesapeake
Hampton
Newport News
Poquoson
Kiptopeke
Capeville
Cape Charles
Cheriton
Eastville
Portsmouth